I'm still here in my beloved Lebanon and well you can only imagine how many frareej meshweeyeh (grilled chickens) I've had… It's one of my all time favorites with extra toum, of course!
Char-grilled butterflied chicken is very much a fast food item in our household. Although we prepare it ourselves when we throw barbecues, we also tend to pick it up ready made on our way back home when we don't have the time and energy. We keep things simple and serve it with a mixed salad and some hummus. Whatever you do please don't forget the toum…
Farouj Meshwe is a popular street food in Lebanon. The chicken is butterflied and then pressed between two grill mesh plates, then it is basted several times with a garlic, olive oil and lemon marinade. Once cooked the chicken is de-boned and then the meat is wrapped into luscious Arabic bread sandwiches that have been generously slathered with garlic sauce and a few pickles before the wrapped sandwich is put back on to the charcoal to crisp. This is my version of utopia. Really!
Since it's been flattened, butterflied chicken cooks quickly, in about 40-60 minutes depending on BBQ strength. The skin comes out extremely crispy (It's the best part) and if cooked right, the meat tender and juicy.
[printpost]
Lebanese Butterflied Chicken – Farouj Meshwe 3al Fahem
Cast of Characters
A chicken
For the marinade
4-5 clove of garlic, minced
1-2 lemons, juiced- more or less to taste
1/2 cup of olive oil or about 120 ml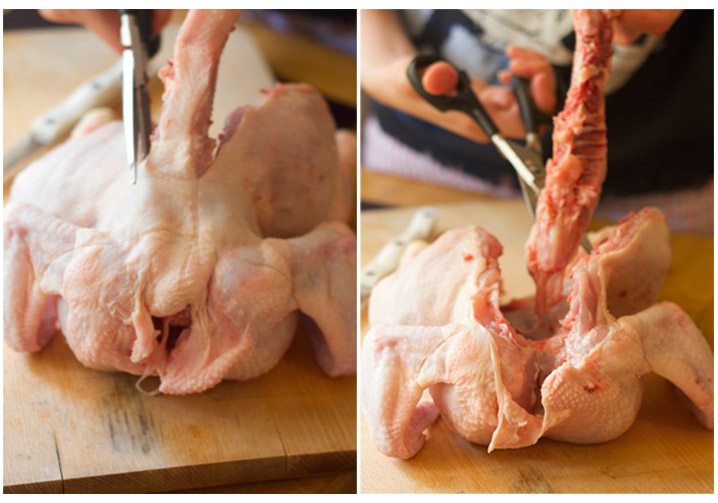 Place the chicken with its back facing up and the drumsticks facing you. Using a pair of kitchen shears, cut through one side of the backbone. Repeat for the other side till the backbone is removed. Note: you are cutting out the backbone so you are cutting around it and through the small rib bones. You can use the backbone to make chicken stock.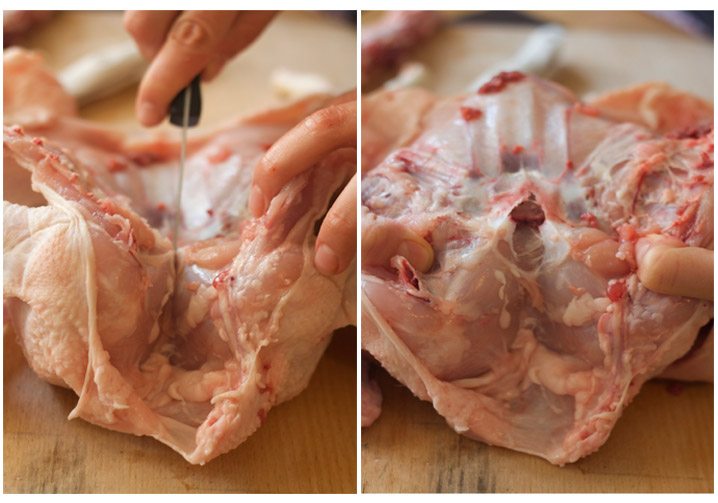 Turn the chicken over and using a paring knife make a small cut in the white cartilage in the center of the top breastbone. Then bend the halves backwards so the breastbone becomes exposed.
Run your paring knife or index fingers down both sides of the breastbone to separate it from the meat, then pull the bone out. It may come out in two pieces, no biggie.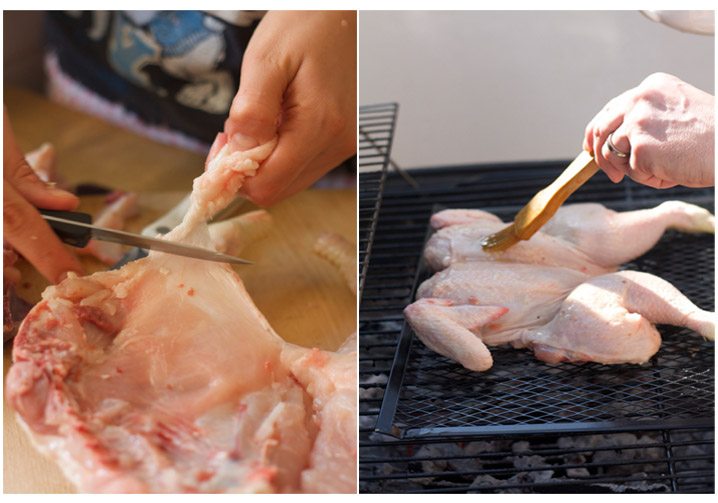 Now trim off any excess fat and give it a good rinse. Wipe it dry and get it ready for the barbie.